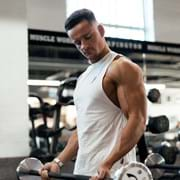 Matt Blakeney
New to the gym and have no idea where to start?
Or perhaps you've trained for a few months or even a year and want to push yourself to the next level?
Or just struggling to find a Personal Trainer that suits your preference with dozens of options out there?
The reasons continue, but seeking a Personal Trainer is always better than not seeking one at all, and trying something out alone.
My fitness journey started at 16, 5ft 7, 56kg.  Definitely that skinny kid in school.  With any change, there's a process, and a time frame given to that.  And for me it's taking my body composition and strength from below optimal to beyond expectation.
My physique, training and knowledge today has been an ongoing craft for years, and still expands today.  Through understanding my natural talents, strengths and even genetics, hypertrophy training and body composition became highlights of my ongoing success.
Let's achieve your fitness goals, whether small or large, contact me today for a consultation.
www.matiuzpersonaltraining.com
Specialist Areas
Body confidence
Body fat reduction
Muscle tone and development
Nutritional guidance
Strength and conditioning
Weight loss
Qualifications
Level 3 Personal Trainer
Level 2 Fitness Instructor