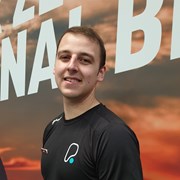 Contact
Log in to view contact details
Matt Mitchell
Hi I'm Matt.
After spending the past few years searching for a work-life balance and working on my physical and mental wellbeing; I have gained a huge appreciation for physical fitness and a healthy lifestyle.
With a young family it is important for me to stay fit and healthy. We love nature, the outdoors and going on adventures. However, physical fitness hasn't always been my thing. I wasn't one of the 'sporty' kids in school, but in my late teens I discovered THE GYM.
Life has its ups and downs and it can be difficult to stay consistent. I, like many other people, spent my time so invested in work that I didn't think I had time for exercise. I can help you to find a routine that works for you and maybe even have some fun along the way!
Want to lose weight? Looking to build muscle? You might even be thinking of competing in an endurance race? I am here to help!
Together we can discuss your exercise regime, eating habits and overarching goals to put together a programme to get you where you want to be.
Specialist Areas
Body confidence
Body fat reduction
Muscle tone and development
Nutritional guidance
Weight loss
Qualifications
Level 2 Fitness Instructor
Level 3 Personal Trainer