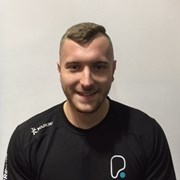 Matthew Clewes
Hello, my name is Matt. I have been working with PureGym as a Personal Trainer for quite some time now, and I am loving every second of it.
From a young age, I have always had a passion for sports, no matter what the activity. My journey into the sporting industry started off at quite a young age, as I started hitting the gym. Until then I was a qualified lifeguard, with a sporting diploma. I had a job at the local leisure centre as a gym attendant and a lifeguard.
From this, the gym has just taken off to another level, hitting all kinds of heights, both personally and professionally. Being a Personal Trainer and getting the opportunity to be able to meet and greet people in the gym, on a day to day basis, is an absolute privilege. But for me, the best part of the job is being able to teach someone life-long learning skills which could potentially change people's lives when paired with the right motivation and guidance to lead them onto their chosen fitness path.
Currently my clients and I are smashing targets, achieving goals, always progressing and working towards that desired physique everyone wants. So if you see me on the gym floor, don't hesitate to come up and ask any questions regarding training. I will be more than happy to help you out to the best of my ability. Whether you are a beginner, an experienced trainer looking for more insight into training, or wanting to lose weight, I am here six days a week to support and to get you where you want to be.
Specialist Areas
Bespoke plan
Body confidence
Body fat reduction
Muscle tone and development
Sport specific training
Strength and conditioning
Weight loss
Qualifications
Level 3 Personal Trainer
Level 2 Fitness Instructor
Level 3 Diploma in Sport (Development, Coaching and Fitness)
First Aid At Work and Defibrillator Trained