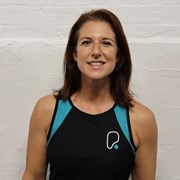 Maxine Ellison
Hey! I'm Maxine and I love to help people achieve their fitness and body goals. 
Exercise and keeping fit is my passion but this hasn't always been the case! 
Prior to starting my fitness journey I had never considered myself a sporty person, preferring to spend time my downtime watching TV or out with friends.
I got into fitness as a way to escape the stresses that came with running my own business and a period of difficult mental health. 
I can remember how daunting those first few gym sessions were. I want to help you learn how to be confident in all areas of the gym and how to effectively use your time to get the best results. 
I believe your journey in fitness should be enjoyable! My goal is to share my love and enthusiasm for better health with you. Helping and motivating you to achieve things you didn't think were possible. 
If you are tired of not seeing results from training, I have been where you are, and I am here to help. 
I can teach you what I have learned, providing you with simple solutions to lose weight, improve fitness and energy levels and increase self confidence.
If you are ready to get started call me on 07747676414. 
Specialist Areas
Nutritional guidance
Strength and conditioning
Boxing
Qualifications
Padwork and Boxing

Indoor cycling

Kettlebells

TRX