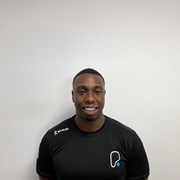 Contact
Free first session offered
Email me
Mo Agoro
Exercise, fitness and sport has always been a passion of mine ever since I can remember. From a young age, I developed a varied taste in sports ranging from Football, Athletics, and Rugby. Focusing on Rugby League, I started my career in 2013. I have gone on to play over 150 professional games and I currently represent Jamaica in Rugby Union and in Rugby League.
During my sporting endeavors I have gone onto higher education to gain degrees in Exercise, Physical Activity, and Health, BSc, and Sports Strength and Conditioning MSc. With that in mind I also studied to become a personal trainer with the main goal to help empower you to become the best version of yourself by sharing my knowledge and expertise.I have expert knowledge on injury prevention, nutrition, body recomposition and strength training. The approach I have towards coaching any client is backed by research combined with my playing and work experience to provide a cutting-edge service. I aim to help each client reach their full potential and to produce the best possible results.
Before starting any training, you will receive a complimentary consultation where we will discuss your goals and lifestyle. During this time we will also complete a movement assessment with the aim of identifying muscle imbalances, flexibility issues, core stability weakness, neuromuscular control and balance. After gathering this information I can tailor your programme based on your goals, what you enjoy doing and the movement assessment findings.
I now offer support to busy male and female professionals who want to become fitter, leaner, and stronger. If you would like to book a consultation feel free to drop me a email at [email protected] Alternatively, catch me in the gym and we can discuss everything in greater detail.
Thank you for reading
Specialist Areas
Body fat reduction
Muscle tone and development
Nutritional guidance
Sport specific training
Strength and conditioning
Qualifications
Bsc Exercise, Physical Activity and Health  
Msc Sports Strength and Conditioning  
Level 2 Fitness Instructing  
Level 3 Personal Trainer  
Level 3 Award in Nutrition for Physical Activity