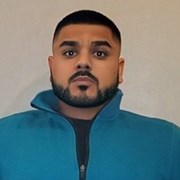 Mobeen Shahid
Hi! My name is Mobeen! I have been training since I was 15 years old as I was
overweight and wanted to change my circumstances. What started out as a
cause for the bullying I endured, became my motivation at the gym. This
developed my passion, and I began to research weight loss. I also began to
train my peers as a hobby and transformed my family and friends' bodies
which can be seen in my portfolio. Even though I was scared and
uncomfortable starting out at 15 years old, I am now confident in what I do
and have turned my hobby into my profession!

I have faced many setbacks in my life, for example, my appendix operation
and an accident. A few years ago, I was unfortunately hit by a car and
severely damaged my arms, knees, and hip. This meant I had to go through
many sessions of physiotherapy before I could walk on my own. I slowly
started getting back to the gym and my passion to become healthy and fit
became stronger. I learnt to be resilient as I had to start from scratch again,
but this shows if I can do it so can you!

I had to also build myself up mentally and the gym really helped me with my
mental health, so not only will my personal training help with physical
health, but exercise is also known to improve mental health.
My strengths are powerlifting, and bodybuilding and I can help with weight
loss and weight gain through weight training. I can also help with cardio
workouts! I am currently working on my nutrition course, and I also have a
cupping diploma, so I am a sports cupping practitioner/therapist and have
been doing this for 3 years. I am the CEO of BodyCare and The Muscle MOB.
So, let us get started today, and you will not be disappointed with the
results! Wherever you are starting from you can achieve your goals and I am
living proof of that!

Facebook:  Themusclemob
Instagram: themusclemobpt
Specialist Areas
Body fat reduction
Muscle tone and development
Nutritional guidance
Strength and conditioning
Weight loss
Boxing
Qualifications
L3 Personal Trainer
L2 Gym Instructor 
Sports Cupping Practitioner / Therapist
NASM Optimum Performance Training