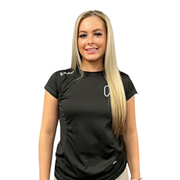 Molly Gooden
I help women to completely transform their bodies & start living the life they've always dreamed of!
My clients normally come to me feeling clueless in the gym, unhappy, tired, fat & out of shape.
Within a week or 2 they've normally dropped a crazy amount of body fat, skyrocketed their strength, increased their energy levels & are feeling positive about their goals.
Every client has access to my private app where there are video tutorials for every exercise in the gym which coincide with their bespoke training plan. We provide free recipe books for when you need a bit of inspo in the kitchen. We'll also give you nutritional goals that you can stick to (not just chicken & rice don't worry). We'll then check in with you on a daily, weekly & monthly basis to assess your progress and make sure that you haven't fallen off the plan.
We'll focus on your relationship with food & the dreaded weighing scales, alongside making sure that you're getting stronger in the gym every week to build a physique you can't wait to show off!
Specialist Areas
Body confidence
Body fat reduction
Muscle tone and development
Weight loss
Qualifications
Level 3 Personal Trainer
Level 2 Gym Instructor
First Aid