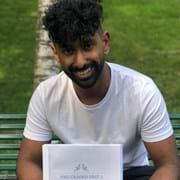 Muhammad Gardee
HOW I CAN HELP YOU!
To whoever is reading this, hello there!
My name is Muhammad! I am extremely passionate about all things health and fitness related and helping others as I am a firm believer that health is wealth.
As someone who had suffered from Tourette's growing up, it was the deepest and darkest time of my life. Everywhere I'd go, people would stare, laugh and imitate (back when I was first diagnosed eight years ago, it was a loud barking sound). However, I overcame this and noticed that when exercise
Whether it's playing for my local football team or weight training, my 'tics' are less frequent. Rewind back to a few years ago, being skinny and unhealthy, nobody including myself thought I would become a qualified personal trainer. Now, here I am ready to help you make a change and strive towards living a healthier and happier life.
I care so much about my clients and there's nothing more important to me than providing the best possible experience that makes them happy, confident and strong. Whether that is learning how to move better or learning how to lift safely and efficiently. I want to help you you reap all the endless benefits of training that helped me become the person I am today. Whether it's wanting to build muscle, lose weight or gain confidence in your own body - regardless of your level if you're new or been going for years, I am here for you every step of the way.
To give you an insight to myself and who I've helped, feel free to follow me on my instagram > @belimitlesspt <
If you'd like to be a part of my team, please don't hesitate to send me a message, email or come and say hi in the gym and we can book you in for a free consultation. I look forward to working with you!
Specialist Areas
Body confidence
Body fat reduction
Muscle tone and development
Nutritional guidance
Strength and conditioning
Weight loss
Qualifications
Qualifications 
Certified Level 2 Gym Instructor

Certified Level 3 Personal Trainer

Certified Studio Spin Instructor 
Certified Kettlebell Instructor 
Specialist Areas
Improving health and well-being 

Muscle building

Weight loss