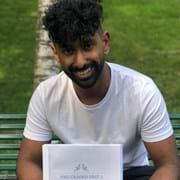 Muhammad Gardee
Hi! My name is Muhammad, but some people call me 'Mo' or by last name Gardee. 
I am extremely passionate about all things health and fitness related and helping others as I am a firm believer that health is wealth.
As someone who has suffered from Tourette's growing up, it was the deepest and darkest time of my life. Everywhere I'd go, people would stare, laugh and imitate (back when I was first diagnosed eight years ago, it was a loud barking sound). However, miraculously it became less severe and noticed that when I exercise, my 'tics' are less frequent. Five years ago, being skinny and unhealthy at 59kg, nobody (even myself) thought I would become a qualified personal trainer (I didn't even know what a gym was back then). Now, here I am, ready to help you unlock your potential.
I care about my clients and there's nothing more important to me than providing the best possible experience that makes them happy, confident and strong. I want to help you reap the endless benefits of training that helped me become the person I am today. 
If you want to surpass your limits, come and say hello or fire me a message and I'd be more than happy to help you unlock your potential
Specialist Areas
Body confidence
Body fat reduction
Muscle tone and development
Nutritional guidance
Strength and conditioning
Weight loss
Qualifications
Qualifications 
Certified Level 2 Gym Instructor

Certified Level 3 Personal Trainer

Certified Studio Spin Instructor 
Certified Kettlebell Instructor 
Specialist Areas
Improving health and well-being 

Muscle building

Weight loss