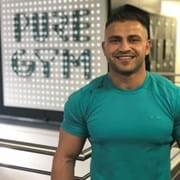 Musty Abed
Tired of staying the same or not getting the body that you hoped you can achieve? Having to come to the gym and not getting the results you want can make you feel down and demotivate you.
Reaching goals and getting results should be the reason why you're in the gym as that's what keeps you motivated and keeps the fire inside you.
Being in the industry for over 10 years I have the knowledge and experience of having tried countless training and diet programmes to see what works for each individual and what suits them based on their goals.
I'll make you reach the next level and get the results you need to transform your body to the one you always wanted, it's never too late to start. Why don't you join my:
8 Week Body Transformation programme
12 Week Body Transformation programme
18 Week Body Transformation programme
Specialist Areas
Bespoke plan
Body confidence
Body fat reduction
Muscle tone and development
Nutritional guidance
Persistent motivation
Sport specific training
Weight loss
Qualifications
Level 3 Personal Trainer
Certificate in Nutrition
Certificate in Gym Based Boxing
Certificate in Studio Cycling