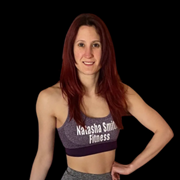 Natasha Smith
I have been into my health and fitness from a very young age but it has not always been an easy journey, especially after having my son! I have been where you are; not knowing where to start, feeling intimidated in the gym, feeling lost in my journey. I have felt what you're feeling, uncomfortable, bloated, unhappy in how I look and how I feel, low in energy. I realised that carrying on the way I was, would not create a happy life for me and my family, so I made a lifestyle change.
I decided to become a personal trainer because I want to help people come out of that rut. Nobody should feel unhappy in themselves and everybody deserves to feel AMAZING in their body and mind.
I will devise a personalised training programme that helps you exceed your goals and educate you on how your nutrition will support this and your lifestyle. I give you constant, consistent support and I will be your biggest cheerleader.
This is not just about aesthetics (although nobody complains about the hot bod that comes with it). It's about making lifestyle changes that make you fitter, stronger, healthier and live longer!
Fitness should never feel like a chore, it should be fun, and I will help create that excitement for your journey.
If you're ready to make a change, get in contact today so we can start changing your life!
"Nothing changes, if nothing changes"
Follow me on Instagram @natasha_smith_fitness
Specialist Areas
Bespoke plan
Body confidence
Muscle tone and development
Nutritional guidance
Weight loss
Qualifications
Level 3 Personal Training
Level 2 Fitness Instructor
Level 2 Exercise to Music