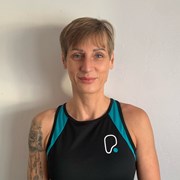 Neringa Grebliauskiene
I started working out just over 3 years ago.  I got into fitness because I wasn't happy with my body anymore, I decided it was time to look after myself.  I started training and eating healthy, after seeing a major transformation.  I decided I also wanted to help others to transform.
Once I made that decision, I went into training for Level 2 and Level 3.  I passed all my courses and now here I am!
I am here to help people achieve their body goals, gain their body confidence and be happy within their self's.  I want to give you motivation to become the best version of you.  I will push you to your limits, I will make sure you do not give up!
I am here to help everyone.  I won't your trainer, I will also be your friend!
If you have any queries, please send me a message or email.
If you see me around don't hesitate to say hello and ask any questions that you may have.  I will happily help you.
Follow me on my social platform.
Specialist Areas
Bespoke plan
Body confidence
Body fat reduction
Muscle tone and development
Nutritional guidance
Persistent motivation
Weight loss
Qualifications
Level 2 in gym instructing
Level 3 in personal training