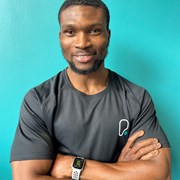 Oluwatowo 'Tomi' Okeowo
Hi, my name is Tomi and thank you for reading my profile.
As a Personal Trainer and a Fitness enthusiast, my focus is to use strength and endurance training to help promote a sustainable fitness and healthy lifestyle just like I've done for myself and other clients that I have helped.
My training method was created on the back of science and experience, using a unique, easy-to-follow, basic yet effective training approach tailored specifically to respective clients.
Over the years, I have worked with both young people and adults from diverse backgrounds and experiences, so rest assured you are and will always be in a safe hand regardless of if you are new to the gym environment or advanced and wanting to improve in certain areas.
I strongly believe in people's potentials and abilities, and sometimes all people need is a little extra push, this is why I am not afraid of pushing people in their training sessions and nutrition to help bring the best out of them which ultimately lead to a fast-track goals.
All I'm asking of you is to believe in your goal, commit to your goal and together we will achieve your goal.
I am hoping I will be able to help you achieve your long overdue goals and break through the barriers you've been facing by using my training program, nutrition guidance and experiences with a personal touch.
Get in touch now and remember YOUR GOAL IS MY GOAL. Yes, it is that personal.
Instagram: @tomi_personal_training
Specialist Areas
Bespoke plan
Body fat reduction
Muscle tone and development
Nutritional guidance
Weight loss
Qualifications
Level 3 Personal Training
FA Level 1 Football Coach
Level 3 First Aid