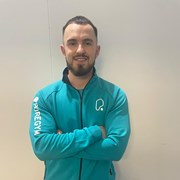 Owen Hobday
Hi my name is Owen.
I became a personal trainer because not only have I been involved with sports and exercise my whole life, I have come to realize over the years I have a passion to help people succeed in their own fitness goals.
I understand we don't all come from the same 'sporting' background and that doesn't matter!
If you're here to better yourself then already you have made the first step in the right direction to your pathway through fitness and exercise.
With the achievable goals we set together, my tailored workout program and guidance, you can excel in the gym confidently.
I hope we are able to work together to meet a common and achievable goal you desire.
Specialist Areas
Body fat reduction
Muscle tone and development
Strength and conditioning
Qualifications
Level 2 Gym Instructor
Level 3 Personal Trainer