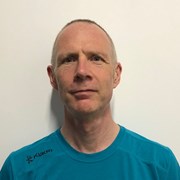 Contact
Free first session offered
Email me
Paul Hutchin
My aim as a personal trainer and cycling coach is to help you on your fitness journey, whether you're new to the gym or an experienced regular looking for a new approach. 
Improving your health and fitness should be a pleasure and not a chore. I will work closely with you to understand what motivates you and to develop programmes that will provide enjoyment, satisfaction and progress. I firmly believe that it is your goals that matter, not mine and not those of anyone else. Helping you identify and achieve your goals is my primary aim as a personal trainer and coach.
I have a particular interest in cardiovascular fitness and endurance sports, especially cycling. Over the last few years, I've helped many people on their journey into cycling, both as a coach and as a ride leader and have seen the joy that reaching new goals can bring, whether it be riding further, riding faster, climbing higher or completing endurance challenges. Developing fitness and endurance is a journey – wherever you are on that journey there are new goals to aim for and new achievements to be accomplished. So, if you're looking to take your fitness to new heights, get in touch and let's see how far we can go and how high we can climb!
Specialist Areas
Bespoke plan
Nutritional guidance
Persistent motivation
Sport specific training
Weight loss
Qualifications
Level 2 Gym Instructor
Level 3 Personal Trainer
Level 3 Cycling Coach
British Cycling Ride Leader
Level 2 Mental Health Awareness/Mental Health First Aid
Emergency First Aid