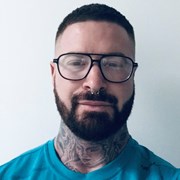 Paul Monaghan
I first started getting into fitness in school playing football and some other sports.
After School I embarked on a sport and recreation NVQ in which I qualified as a Level 2 Gym Instructor and I became a fitness resistance and cardio training equipment specialist.
I also achieved a NPLQ lifeguard qualification.
I used my lifeguard qualification to take a job at a Leisure Centre in Cheadle where I taught Aqua Aerobics.
I also started to teach Spin classes and bootcamps as well.
I went through a difficult time after a career change that resulted in me suffering with depression and anxiety however I knew I needed something to help me combat these illnesses and I turned back to the gym.
I started seriously lifting weights and began to build up my physique again, I also took great enjoyment from learning the use Olympic gymnastics rings.
I found through all this training that my mental focus was immensely improved, my anxiety became less and my depression much more still.
I am now looking to take my training to a competition level to push myself even more and will hopefully be competing very soon on the Classic Physique stage.
I love fitness and training, not only how it helps my confidence, but my mental wellbeing is so much better as a result, it gives me something very positive to work hard at and helps push me beyond my expectations of myself.
I am now fully qualified as a Personal Trainer and I am excited to pass my knowledge onto others and help them love their training and themselves as well.
Specialist Areas
Bespoke plan
Body confidence
Muscle tone and development
Nutritional guidance
Persistent motivation
Strength and conditioning
Qualifications
Level 2 Fitness Coaching
Level 3 Personal Training
Level 4 Nutrition for Sports Performance
Level 3 The Science of Muscle
NPLQ Lifeguarding