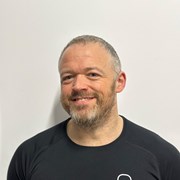 Paul Newey
Hi there I'm Paul, & I'd like to help you learn how to make the remainder of your life happier, enjoyable and rewarding.
Firstly I'd like you to ask yourself why you joined the gym. If it was to help you feel better about yourself, get active & create a better quality of life so you can do all the things you want to do, I'm here to help you with that.
Exercise and physical activity shouldn't be a chore, it should be a celebration of what our bodies can do. We're here for a good time, not a long time, so shouldn't we enjoy it as best we can? If you find it fun then you're more likely to stick with it long term and get the results you want. Get in touch & let's talk about what you'd like to achieve & what makes YOU happy.
See you soon, & be kind to you.
Specialist Areas
Body confidence
Injury prevention and rehabilitation
Strength and conditioning
Qualifications
level 2 fitness coaching
level 3 personal training
level 4 strength and conditioning
mental health first aid
mental health & exercise coach (Trainee)