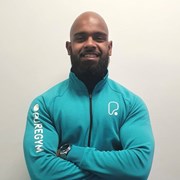 Contact
Free first session offered
Email me
Prakaash Kamalanathan
Hi, my name is Prakaash, but you can call me PK.
Sports and fitness have always been an important part of my life. Not only has it allowed me to attain the physique I have always wanted, but it has also shaped me in all aspects of my life in becoming the person I've always wanted to be, and I am very grateful for it.
In my past experience as a footballer and coaching "the beautiful game" for several years, this has got me into personal training from enjoying coaching and training myself for the past 7 years.
My goal as a Personal Trainer is to make you reach your desired goal and make you confident in everyday life, to become a healthier version of yourself and to gain mental and physical strength. I am highly motivated to ensure you get the best out of training and promise you and guaranteed results.
Please do not hesitate to contact me or approach me on the gym floor. I am very friendly so don't be shy. Let's get training and achieve those goals!
Specialist Areas
Sport specific training
Strength and conditioning
Weight loss
Qualifications
•
Level 3 in Personal Training
•
Level 3 in Sports Massage
•
FA Level 2 in Football Coaching