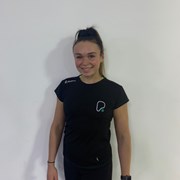 Rachel O'Neill
Hi, I'm Rachel.
Coming from a competitive gymnastics background, I progressed into sports coaching whilst studying Sports Science at university. It was during this time I completed a personal transformation. I have experienced first-hand, the impact that a healthy lifestyle can have on both your physical and mental health, and now I want to share this passion and knowledge with you. 
Whatever your goals might be: lose body fat, general fitness, body tone and body confidence, or just to feel really good about yourself, I can help. Combining my degree, sports therapy diploma and Personal Training experience, I am willing and able to take you to where you want to be.
Let's, together, create sustainable life-long changes for a healthier, happier you. With nutritional guidance and a training programme tailored to you, there is no limit to your success. Anything is achievable if you are willing to put in the work. So, are you?
Specialist Areas
Body fat reduction
Muscle tone and development
Nutritional guidance
Qualifications
Level 3 Personal Trainer
Level 3 Sports Therapy
BSc Sport & Physical Activity