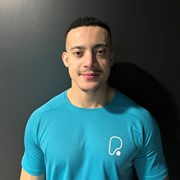 Robert Charlesworth
I've been into fitness all my younger years, diagnosed with a heart condition from birth. I was told I couldn't be a Pilot or in the Army.
This powers my 'Why?' as a Personal Trainer, to work on proving to myself that we are capable of so much more.
I used to train in Athletics, Bodybuilding and was told I should stop lifting heavy by my doctors in November 2019.  Now my approach has shifted in into functional strength training, developing power and retaining a strong physique with a passion for boxing.
Want to take control of what you want to do? We will change what you think is possible and lay the foundations today, for a better life tomorrow.
Come and have a chat with me and we will get you started on your journey! 
Specialist Areas
Functional specialist
Muscle tone and development
Sport specific training
Strength and conditioning
Boxing
Qualifications
Level 2 Fitness Instructor
Level 3 Personal Trainer