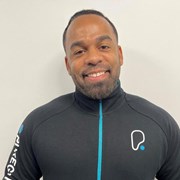 Romaine Carter
Hi my name is Romaine ... (Rome)
My fitness journey is comprised of multiple sports throughout my life. Football , Basketball, Boxing and Swimming. 
I use a range of training techniques to assist my clients in achieving their goals. Whether it be HIIT to burn fat and build muscle or functional fitness to improve posture and aid in a body transformation. 
I ensure that I will motivate you and add to your drive that you already possess, to be the best version of yourself. 
If you have any questions or would like a free consultation where I will be able to gauge your fitness level and I can learn of your goals, then don't hesitate to contact me.
Specialist Areas
Body fat reduction
Functional specialist
Muscle tone and development
Strength and conditioning
Weight loss
Boxing
Qualifications
- Level 3 Personal Training
- Level 1 Boxercise
- Emergency First Aid at Work