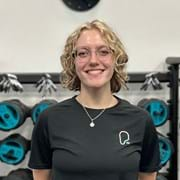 Rose Ledger
I've been on my fitness journey for a few years now and it completely changed my life, and now I want to help others do the same.
I thought I could only achieve the body, life and person I wanted to be by doing cardio, changing how I act and putting on a show. The gym, fitness and a change of mindset has shown me that I can live the life of my dreams, have the body that I want (not society wants) and be the person I want to be.
Rose Claire Coaching is dedicated to changing peoples perception towards exercise. I want to help people change their bodies for good, learn about weight lifting, learn about the gym, change their mindset and change their life.
Rose Claire Coaching specialises in weight lifting and strength training, body recomposition, weight loss, muscle gain, body positivity and self love, healthy living and overall, living a better life.
Specialist Areas
Body confidence
Muscle tone and development
Weight loss
Qualifications
Level 3 Personal Trainer
Level 2 Gym Instructor