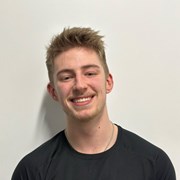 Sam Cosh
My interested in Health and Fitness started when I was given some Personal Training time with Ricki at Pure Gym for a Christmas gift. This gift changed my life.  I found a real passion for training and it gave me, for the first time, a direction I wanted to take in life. I wanted to help people; I wanted to be in the health and fitness industry. I loved training, and haven't stop since that gift. Even during the national lockdowns of 2020 and 2021 I continued to train at home, using what ever we had to hand. Leg pressing with the sofa while my dad sat on it was a common sight in our house. 
Having found what I wanted to do as a career, I went on to study Health and Fitness in King Ecgberts 6th Form, and then on to gain my Fitness Instructor Level 2 and Personal Trainer Level 3 qualifications once I'd finished school. 
I have achieved my first goal - to be a Personal Trainer, and at Pure Gym too (where it all began). However, the journey hasn't ended. I'm continuing to study, looking to gain professional qualifications in Nutrition. I'm also very keen to gain more knowledge about mental health. Having suffered from varying degrees of mental health problems, I'm acutely aware of the connection between physical health and mental health. I'm hoping to begin to offer alternative approaches to helping with mental health. 
That's my story so far. The journey has just begun, and I'm excited to see where it takes me.
Specialist Areas
Body confidence
Body fat reduction
Muscle tone and development
Persistent motivation
Strength and conditioning
Weight loss
Qualifications
Level 2 Gym instructor
Level 3 Personal trainer