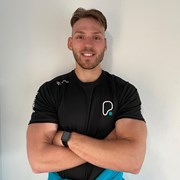 Sam Lonsdale
Let me guess, you have tried everything to lose weight? The shake diets, fasting, no carbs, the list is endless!
My personal journey has been a rollercoaster of weight gain and weight loss. Throughout my childhood I always struggled to control my urges towards food.. especially my binges!
As I went through high school I started lifting weights and losing fat. I also educated myself in college with a sport and exercise science extended diploma, which gave me my first ever insight into weight management.
Fast forward several years and I have educated myself to the highest level with a Sport and Exercise Science BSc (Hons) degree.
During my time in education I have also gained a lot of experience working with individuals who need help with rehabilitation injuries. Working in the NHS as a band 4 therapy assistant, I expanded my knowledge around injury rehabilitation and I worked with a largely contrasting demographic of patients to offer the best rehabilitation therapy that I could.
I have reached out to food therapists who have educated me on food behaviours and many other important aspects of how to understand my relationship with food.
I can now eat the foods that I love and not be fearful that I will binge and lose control.
Losing weight and regaining my confidence has been life changing.
Working on myself was the best thing that I have ever done!
My work experience, paired with my personal experiences and my educational background puts me in a position where I know that I can offer the best results and support for anyone individual who is looking to improve their life for the better.
My personal training programs are specifically tailored towards YOUR needs and goals. 
The interventions that I put inside of your program will ensure that you have all the support and structure that you need, so that you can take those steps towards finally achieving your health and fitness goals.
Change starts with you.
You need to create a new identity and step away from old behaviours that are holding you back.
Let me help you by booking your free 30 minute consultation below:
Specialist Areas
Bespoke plan
Body confidence
Injury prevention and rehabilitation
Muscle tone and development
Nutritional guidance
Strength and conditioning
Weight loss
Qualifications
Sport and Exercise Science BSc (Hons) degree
Level 3 extended sport and exercise science diploma
Level 3 personal training
Level 2 gym instructor
Level 2 Sport coaching UK qualification