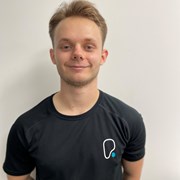 Sam Steward
Time or Money? What is more important to you? As a Personal Coach, I hear stories daily about how someone has been trying for months on end to reach their goals on their own to no avail, not willing to invest fully in themselves.
It is my aim, to show you the true value of investing in yourself to achieve the goals you have set by joining the gym.
As a coach, I can help you elevate your training to the next level, streamlining your transformation process, giving you more time throughout the year to do the things you enjoy, all whilst showing how investing in yourself can change your life.
And that can start today! Message me through my socials or grab me in the gym to get started and you can start your investment with a 30 minute session free of charge.
Specialist Areas
Body confidence
Body fat reduction
Muscle tone and development
Nutritional guidance
Strength and conditioning
Weight loss
Qualifications
Level 2 Fitness Instructor
Level 3 Personal Trainer