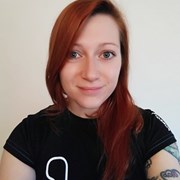 Sandra Slowik
I'm Sandra and I'm from Poland. I'm a Powerlifting athlete, Powerlifting coach, Personal Trainer, and a crazy cat lady.

I believe that a strong body equals a strong mind.
I can give you the tools and offer my knowledge to help you to be the strongest version of yourself and achieve your goal. All the hard work and commitment is yours, I can only help to make it more sustainable and easier to do.

Here is a testimonial of one of my clients, Filip:
'I am lucky to be Sandra's trainee as she is a competent and professional coach. We have been working over a year on my body and mind transformation. Sandra's persistence to pursue a goal resulted in over 15 kilograms loss of body weight, huge muscle gain, and overall well-being so far.'

Don't hesitate to catch me on the gym floor to chat or simply send me a message!
Specialist Areas
Body fat reduction
Postural correction
Strength and conditioning
Qualifications
Level 3 PT
Level 1 British Powerlifting Coach
Strength Training Specialist & Mobility