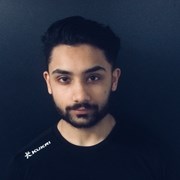 Saud Khalil
Every person you see in the gym has once been through that so called "awkward" stage where they have never stepped into a gym before. Where they don't know how to use the equipment, machines or even choose what clothes to wear. But the truth is, it's like your first day of school and we've all been through it and I'll help you make your first day an easy and fun experience!
What's up guys!
I'm Saud, young and slightly muscular. This all came along a few years ago when I decided to begin bodybuilding and surprised myself after realising that I was able to push myself to my limits, and beyond! Three years later, I competed in my very first Miami Pro competition and hope to do so again in the future! To be honest, I didn't think I could do it...maybe this was due to my lack of self-confidence? Or was it because 'everyone' told me I couldn't do it? Who knows! What I do know is that I did it! And if I can, you can too!
For me, it wasn't just about wanting to compete, or build muscle overnight or become stronger than Brian on the cross trainer next to me, It was more about realising your personal goals, whether it's life goals, career goals or fitness goals and knowing that it's possible to accomplish what you want to achieve in life...slowly but surely! Like someone once said and I repeat...great things take time! From losing weight to bulking up to cutting down, I have done it all!
Do you aim to lose weight? Is there one specific area you want to focus on? Do you want to be the next Arnold Schwarzenegger? Because If you believe in yourself, you can do it and I can help you with that. Fitness is something that I have become incredibly passionate about and I get a thrill out of helping people achieve their ultimate body goals, hence, my job as your Personal Trainer. So is that a yes?
Specialist Areas
Body fat reduction
Muscle tone and development
Nutritional guidance
Persistent motivation
Strength and conditioning
Weight loss
Qualifications
Level 2 Fitness Instructor
Level 3 Personal Trainer