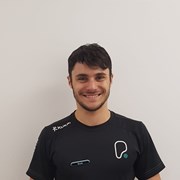 Scott Taylor
In my younger days I was a very active person, I loved playing sports, I did swimming, tennis and kickboxing to name a few. I first got into the gym when I was 16 and ever since then I fell in love with it. As I was growing up I got into muscle building and ever since then I've been hooked on it. I have a passion for fitness and I want to turn my passion into your passion.
If your goal is to build muscle, lose weight or tone up I can help you reach your goals, with the right combination of fitness programmes tailored to you and with the right nutrition plan I believe anything is possible, you've just got to have the right mindset, the motivation and the willingness to do it and as a Personal Trainer, I will coach you into getting the results that you want.
I offer a 30 minute consultation to discuss your goals. Don't be afraid to approach me as I'll be walking around on the gym floor, also if you want to look at my Facebook page it is tayloredfintessforyou.
I hope I can help you on your way to your fitness journey.
Specialist Areas
Body confidence
Body fat reduction
Nutritional guidance
Persistent motivation
Weight loss
Qualifications
Level 2 Gym Instructor
Level 3 Personal Training