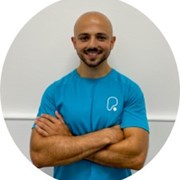 Sean McEvoy
Hello, and welcome to what could be the start of your SMC coaching journey.
Have you ever wanted a certain physique for yourself or wanted a certain lifestyle change but been unable to do it yourself? Do you feel stuck and are unsure where you're going wrong? I've been there too, and I know it's not a nice feeling. This is why I decided to take charge and make myself a winner and teach other people how to do that too.
My services provide much more than just a body transformation. I pride my work on transforming people's bodies, helping people strengthen their mindsets, and provide all the relevant materials to ensure my clients can sustain real lifestyle changes even when they have finished a programme with myself.
With my coaching I work on teaching my clients everything they need to know regarding training and nutrition through making sure they know WHY they are doing things. You won't be given training or nutritional guidance without knowing WHY and HOW it will benefit you.
It's easy to lose motivation if you don't understand how
something is benefiting you. With me, losing motivation
can't happen.
Specialist Areas
Bespoke plan
Body confidence
Body fat reduction
Muscle tone and development
Strength and conditioning
Weight loss
Qualifications
Level 2 Fitness Instructor
Level 3 Personal Trainer
Degree in Sport and Exercise Science (hons)