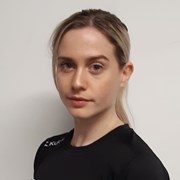 Contact
Free first online session offered
Email me
Shanna Majewski
As a PT and full-time Biomedical Science student, I can relate to those with busy schedules wanting to lead a healthy lifestyle.
Do you want to achieve your fitness goals alongside succeeding in your studies/career and maintaining a great social life? It's possible and I can show you how...
With my science background and experience in many types of training, I can promise to equip you with knowledge on how to transform yourself and give you real, lasting results.
I'm here to provide you with the support that you need to find a training style that works for you, so that the gym is no longer a 'chore' on top of all your other tasks. We will make your session a time in which you focus on relieving stress, going beyond your limits and self-growth; pushing you one step closer to your desired goals.
I specialise in female body sculpting and will get you the booty to your brains.
Introduce yourself to me on the gym floor or send me an email to book a consultation!
Specialist Areas
Bespoke plan
Body confidence
Body fat reduction
Muscle tone and development
Persistent motivation
Strength and conditioning
Qualifications
Level 3 - Personal Training
Level 2 - Gym Instructor
First Aid Qualified