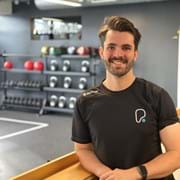 Shaun O'Grady
Health and fitness is a lot like cooking. We all get get the same ingredients, but you can make your own recipe!
My name is Shaun and I am personal trainer here at Charing Cross. I come from a coaching background originally working as golf professional, and then furthering my education by studying coaching at University. I am also a little bit obsessed with cooking and finding ways to make simple meals that are quick, easy and super tasty!
Whether you are looking to lose weight, get stronger or build muscle, your diet should never suffer. I don't believe in food being sins, treats, cheat meals or rewards. Food is fuel and health encompasses your mental well being as well as your physical state.
So how can I actually help you? In my opinion, starting a fitness journey can be sometimes feel intimidating and isolating. That is why I have created a community full of like minded people that you will be welcomed in to. The focus will be on learning how to create new habits, move better, and become stronger - leaving you feeling more accomplished in and out the gym.
Want to know more about me and how iI can help you? Reach out and let's grab a coffee. It's on me!
@shaunogradycoaching
Specialist Areas
Bespoke plan
Body confidence
Muscle tone and development
Nutritional guidance
Sport specific training
Strength and conditioning
Weight loss
Qualifications
Level 2 Gym Instructor
Level 3 Personal Trainer
First Aid