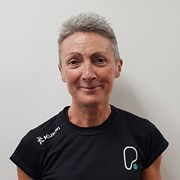 Shirley Dowling
Although I was fit as a child, it was decades before I competed in sport. I joined my daughters' running club in my mid-forties and within three years I was ranked UK No.1 in middle distance categories, and top 4 worldwide for my age group. Now that my daughters have gone to university, it seems natural to share my passion by enabling others to achieve their potential and strive to become their 'better selves'.
My professional career began with General Nursing, moving into Health and Social Care research after my BA and MA in Psychology. Health and fitness underpin physical and mental wellbeing and lifestyle choices are paramount. Good choices aren't always easy or obvious, while bad ones are often unintended or embedded in daily rituals or habits that keep us on the wrong track.

If you're reading my profile, you've already taken a step in the right direction by joining a gym. Now you can embark on a journey to become a new and improved you! Certain factors relating to health and wellness are outside our control; others, particularly our own personal attitude and behaviours can be modified to achieve life-changing outcomes.
My classes are fitness-driven. Fitness results from productive participation in the gym, and enables a fitter life outside it. My approach is naturally bespoke and purposely designed with you and for you. The common thread which connects everything I do is this: I will help and encourage you to expect more for yourself, while simultaneously preparing and pushing you to expect more from yourself.
Specialist Areas
Bespoke plan
Body confidence
Muscle tone and development
Nutritional guidance
Persistent motivation
Sport specific training
Strength and conditioning
Weight loss
Qualifications
RGN (Registered General Nurse)
BA Psychology (1st class Honours); MA Social and Organisational Psychology (1st Class Honours)
NCFE Level 2 Certificate in Fitness Instruction
NCFE Level 3 Certificate in Personal Training
Les Mills Certified GRIT Series Instructor: Strength, Plyometrics and Cardio
Certified Spin Class Instructor