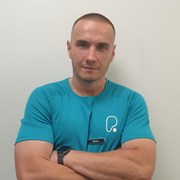 Simon Pecak
The difference between a dream and reality is called ACTION!
After many years of trials and tribulations, ups and downs and life experience I have reached one of my life successes which was to be part of the fitness industry helping others through the knowledge I have acquired.
No excuses!
Results only come depending on the dedication you put in yourself.
Exercising often and eating nourishing meals does not need to be a chore. I am a big believer in "making it your own" so living well can be something you prefer and find great joy in.
I take everyone's life story and create a healthy, well-developed regimen that can be used daily to achieve any goal or objective they may have or want in their life.
Specialist Areas
Body fat reduction
Functional specialist
Persistent motivation
Strength and conditioning
Weight loss
Qualifications
           Level 3 Personal Training
           Kettle Bells
           Functional Training
           First Aid