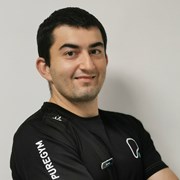 Stephane Karam
Just a quick summary of my journey so far. I have been in the fitness industry since January 2012 where I have worked in Bahrain before attending a mentorship program in Thailand. When I am not personal training, I like to challenge myself with endurance workouts like triathlons, marathons, 1,000 push-ups, or 100 burpees for time. I am also working on obtaining my degree in sports, fitness and coaching with the open university.
During lockdown, I have become aware of the importance of a having a good stress management system alongside your training by learning to deal with emotions both internal and external. Mental health is just as important as physical health because 'the brain is the body's central control unit.' 
I am here to provide physical and mental guidance and support in your health and fitness journey whether you are a beginner or a regular exerciser.
Please come and say hi as I would be happy to meet you and share my passion for endurance with you all. Remember you won't always be motivated, but it's showing up day after day that will creating lasting results! 
Thanks, and regards.
Specialist Areas
Bespoke plan
Body confidence
Body fat reduction
Functional specialist
Muscle tone and development
Nutritional guidance
Persistent motivation
Postural correction
Special populations
Sport specific training
Weight loss
Qualifications
Level 2 Fitness Instructing
Level 3 Personal Trainer
TRX Suspension Trainer
RIP Trainer
Trigger Point Foam Rolling