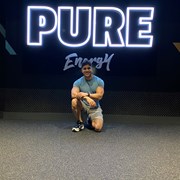 Syed Jamal Kazmi
My name is Jamal, your very own personal trainer who will always put you first.
I am passionate about health and fitness and have years of knowledge to share. We will discuss your aims, training and food diary and together we will make a plan to transform your life. My workout plans ensure that you are always in control of what you do with the flexibility to change and improve. 
I got into this industry to help make a difference for those who believe they can implement positive change in their lives. I also have experience working in Adult Mental Health and have seen the positive impact that physical activity can have. You will definitely benefit if you are willing to embrace change and take the first step.
My help will include exclusive insider secrets to keep you motivated and enjoy the exciting journey I can take you on. Whether you want to tone up for that holiday or go for the Hollywood superstar body let me unlock your full potential.
I'm offering 1-to-1 or training in pairs. Feel free to contact me and share your goals to get a personalised programme.  
Specialist Areas
Body fat reduction
Muscle tone and development
Weight loss
Qualifications
Master of Business Administrator
Level 2 Gym Instructor
Level 3 Personal Trainer