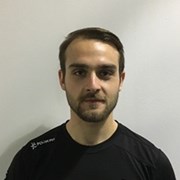 Thomas Roderick
My practice is centered around the belief that fitness and good health can be achieved through small adjustments in lifestyle. it should not be a case of sacrificing everything in order to be healthy.
What is required is to master the basics of exercise and nutrition whilst gaining an understanding of how and why your body reacts to certain foods and exercise techniques. This coupled with commitment and clear, realistic objectives can lead to anyone accomplishing whatever goal they set themselves.
I have come to this way of thinking through my own personal experience. I fell ill and became dangerously underweight after being overweight my entire childhood and teenage years. I then decided to take responsibility for my health and find a way to adjust my lifestyle. This led to me gaining a new appreciation for fitness and led me down a career path I truly enjoy.
My goal as a Personal Trainer is to equip you with the skills and knowledge so that you can become the healthiest, happiest version of yourself without sacrificing the things you enjoy the most. You can still be healthy and go out for food or on a night out with friends. Just remember though being consistent is key.
See you on the gym floor!
Specialist Areas
Body fat reduction
Muscle tone and development
Strength and conditioning
Weight loss
Qualifications
Level 2 Gym Instructor
Level 3 Personal Trainer