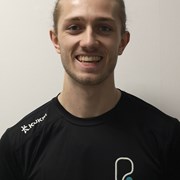 Toby Garner
I spent two years playing American football abroad for a top European team which was a huge milestone for me in my short career, but after an unfortunate shoulder injury I now focus on my passion for fitness.
Whilst the shoulder injury was devastating, I soon realised that it was simply another setback that I needed to overcome. Rehabbing my shoulder and being unable to play was one of the hardest mental and physical battles for me. I use that time in my life as a driving force to help others overcome their setbacks so together we can reach our goals and enjoy our lives to the fullest.
Using these skills and techniques I have developed through training myself and playing I will not only coach you physically but mentally too. I am sure I can help you achieve each and every goal we set together.
I also offer sports specific training for those of you trying to run faster, jump higher or find that extra gear. Please don't hesitate to reach out to me about any questions or queries you have regarding the gym, I will be more than happy to help.
Together we will achieve something you may have never thought possible.
Email: [email protected]
Mobile: 07736 301 813
Specialist Areas
* Sport specific training
* Strength and conditioning
* Body Confidence
Specialist Areas
Body confidence
Sport specific training
Strength and conditioning
Qualifications
Level 2 Fitness Instructor
Level 3 Personal Trainer