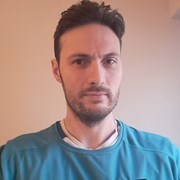 Todd Morris
I've been training for about 10 years now. I was always the scrawny kid growing up looking to get bigger and healthier.
After fixing my diet and beginning my training I started to get results. 
I'm still on my journey and if it works for me it can definitely work for you too.
Is your story similar? Do you want to transform your body? Put muscle or size on? Or is it the other end of the spectrum? Do you need to trim body fat and get leaner?
Are you sick of spending hours on the treadmill? 
Would you love to try weight lifting but have no idea where to start?
How many sets/reps should I do?
What about rest?
Can you help with my diet? 
Contact me today to focus your training and begin your personal program to get the body you want. Everybody starts somewhere so don't be shy. 
Specialist Areas
Bespoke plan
Body confidence
Body fat reduction
Muscle tone and development
Nutritional guidance
Strength and conditioning
Weight loss
Boxing
Qualifications
Level 3 Personal Trainer
Emergency First Aid At Work
Gym Based Boxing
Studio Cycling
Circuit Training
Sports Nutrition