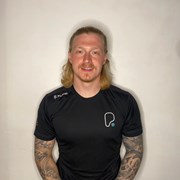 Contact
Free first session offered
Email me
Tom Smith
Hi - I'm Tom.
I help people look, and importantly, feel amazing.
We place a big emphasis on moving well and building strength - the stronger we are, the better we move, the easier life becomes.
I recognise that the gym can be an intimidating place, however, the aim is to meet you where you're currently at, tailor the service to suit your needs/abilities, and ensure you feel as comfortable as possible.
Personally, I've been involved in training/fitness my whole life, from sport as a child to recently completing training with The 4th Battalion, Parachute Regiment.
I have a track record of successful client results and I'm excited for you to join the team.
Do you want to move well, get strong, and looking amazing?
Join my team.
Specialist Areas
Body fat reduction
Muscle tone and development
Nutritional guidance
Weight loss
Qualifications
NASM L3 Certificate in Personal Training