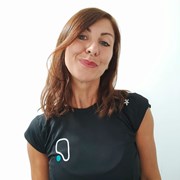 Vittoria Bastoni
Throughout my career as a trainer I had different type of clients: the active one, the lazy one, the "I'm always tired", the "I love food too much" one, the "I don't have time", the "I wish I could look like that" kind.
My goal is to help you becoming the "I enjoy working out" type, to see the gym as a place of self-love.
I take pride in seeing my clients reaching their goals.
No matter your level of fitness you will gain amazing skills, feeling motivated and looking forward to each sessions.
You will feel empowered, strong and much more confident about the way you look and feel.
All of this whilst having fun
I believe training is for everyone.
But not every workout is for everyone.
Let's find the perfect one for you!
INSTAGRAM VitFit
Specialist Areas
Body confidence
Muscle tone and development
Nutritional guidance
Pre and post natal
Weight loss
Qualifications
Level 3 Diploma in Gym Instruction and Personal Training
"Padwork for small groups" Certification
Pre and Post Natal