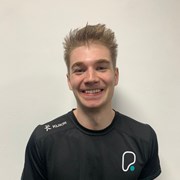 Will Edwards
Hard work, dedication, and consistency are the key areas to not just improving your health and fitness; but changing your lifestyle and mind-set. Fitness is more than lifting weights and posing in front of the mirror; it is about confidence, motivation, and happiness. 
From a young age I suffered from an eating disorder; so spent most of my teenage years underweight, shy, and insecure about my body. I was tired of how I felt and looked, so I joined a gym and began to exercise regularly. Since then I have gained 15 kilograms and have dramatically improved my mental health, nutrition, and athletic performance. I'm an avid long-distance runner, competing in 10k and Half Marathon races while continuing to live an active and healthy lifestyle, and my love for sports and fitness is ever-growing. 
I aim to make my training sessions fun, effective, and engaging. If you have any questions or want some advice, feel free to message me or speak to me on the gym floor. 
Fitness can change your life, what are you waiting for? 
Specialist Areas
Bespoke plan
Body confidence
Body fat reduction
Muscle tone and development
Weight loss
Qualifications
Level 2 Gym Instructor
Level 3 Personal Trainer