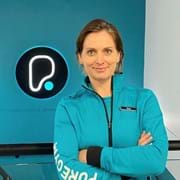 Zuza Zaouche
Hi I'm Zuza,
I went through my own journey of struggles with weight and self-confidence. Joining a gym and having a structure to a hectic life was just the beginning of positive changes in my life a few years back. 
As your coach I want to take you on such a journey too, where you find your strength, confidence, shape up your body and get control over your cravings.
You may be looking for a weight loss, stronger body and bones, toned muscles but deep down it's a search for self-love and approval.
As your personal trainer, I want to show you that body and mind go hand in hand growing in strength, and on the way, you will have lots of fun with physical training.
Chat to me on the gym floor, text or email, let's get to know each other and meet for a consultation.
I will assist you with the coaching program, training program, nutrition guide and advice.
Specialist Areas
Body confidence
Nutritional guidance
Postural correction
Strength and conditioning
Weight loss
Qualifications
Fitness Trainer Level 2
Personal training L3
Precision Nutrition coach
Studio cycling
Certified Strong Nation Instructor