Carrot Cake Protein Muffins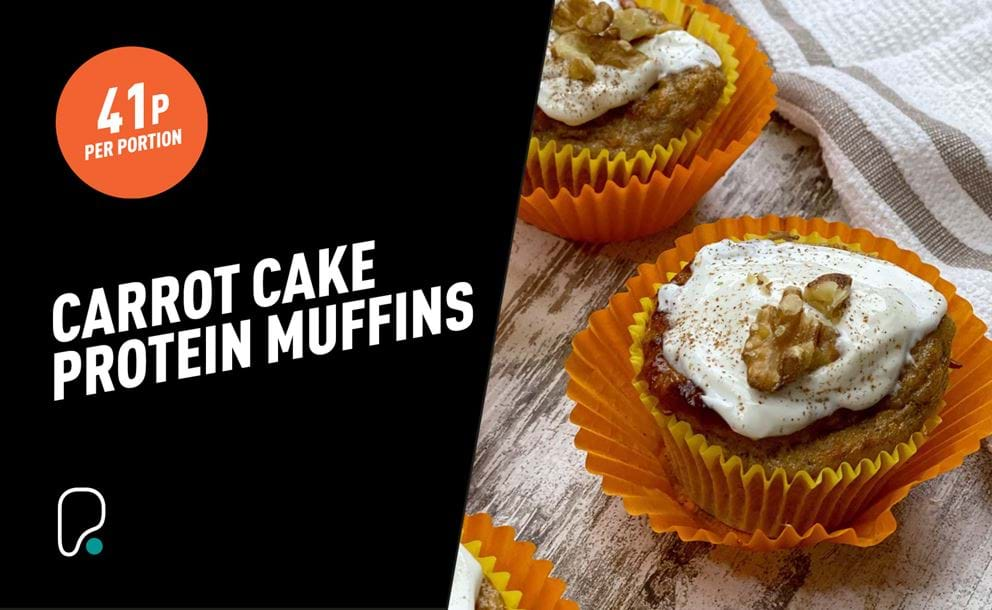 Try this healthy low-carb Carrot Cake Protein Muffin recipe to satisfy your sweet cravings. Packed with protein, fibre and micronutrients such as Vitamin A from the carrots this is a healthy take on the classic carrot cake recipe.
At only 132 kcals per muffin with 10g protein and only 10g carbs they are perfect for a mid-morning snack or even a breakfast on the go. The fluffy muffins are packed with winter spices and paired with creamy quark frosting – Enjoy!

Ingredients


(Serves 8)
Price Per Portion: 41p
The muffins:
60g plain flour
2 scoops vanilla protein powder
1 ½ tsp baking powder
1 ½ tsp ground cinnamon
¼ tsp ground nutmeg
¼ tsp salt
1 tbsp unsalted butter
2 egg whites
1 tsp vanilla extract
120g fat free Greek Yoghurt
1 tbsp maple syrup
½ tsp liquid stevia (optional)
150ml unsweetened almond milk (or any other milk you have)
90g grated carrot
30g walnuts, chopped
For the frosting:
4 tbsp quark
1 tbsp sweetener
1 tbsp vanilla essence
Method:
Preheat your oven to 220c / Gas 7
Whisk together the flour, protein powder, baking powder, cinnamon, nutmeg and salt in a large bowl
In a separate bowl mix melted butter, egg whites and vanilla. Stir in the yoghurt, maple syrup and liquid stevia (optional).
Gradually add your flour mixture and milk and gently fold into the egg mixture
Once fully combined, gently fold in the grated carrot
Divide the mixture between 8 muffin cases and pop into the preheated oven
Bake for 8 mins and then reduce the heat to 180c / Gas 4 and continue baking for 20 mins.
Once they are golden brown and cooked through, take the muffins out of the oven and transfer to a cooling tray
Whilst the muffins are cooling, mix together all of the frosting ingredients
Once the muffins have cooled, spread the frosting mixture across the top of each muffin and sprinkle with chopped walnuts
For more tasty recipes like this and for lots of nutritionist tips and tricks click here.