Chicken Yakitori Skewers with Soba Noodle Salad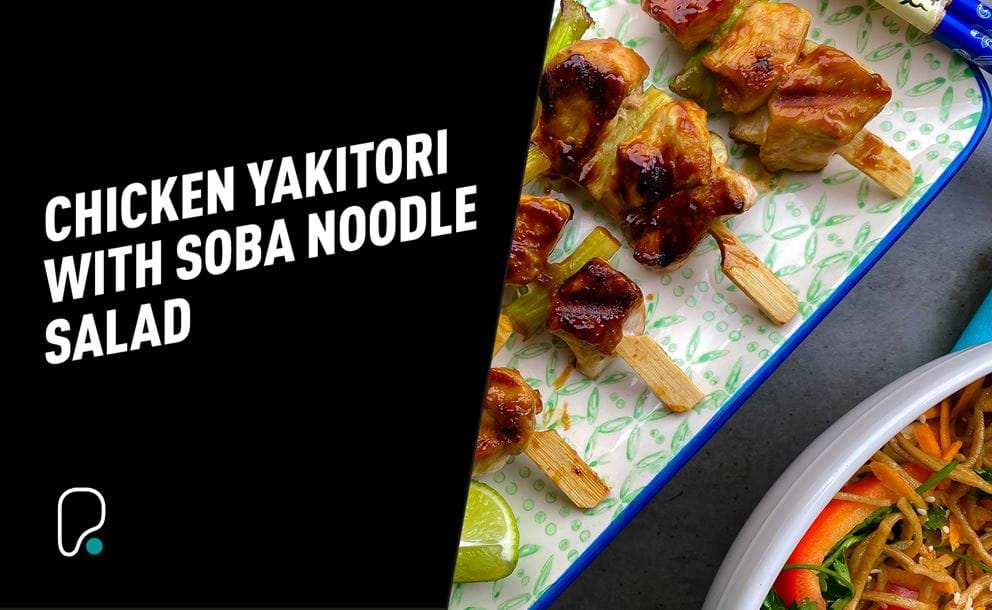 You need to try this recipe! Yakitori is another popular Japanese dish which looks and tastes incredible. Chicken and spring onion are skewered, glazed with a sweet Yakatori sauce and then grilled for a mouth-watering meal.
Traditionally Yakitori (Japanese for "grilled chicken") can be made using different cuts of chicken such as chicken thigh and wing. However, we have used chicken breast as this is a leaner cut of meat which makes the recipe lower in fat.

In our recipe we've also paired the Yakitori with a delicious Soba Noodle Salad to give you a balance of protein and carbs to refuel after your workouts!
Ingredients (Serves 2)
200g chicken breast, diced
4 tbsp yakitori sauce
2 spring onions, cut into chunks
Skewers (we use bamboo)
Soba noodle salad:
100g soba noodles
½ tbsp sesame seeds
1 carrot, grated
½ red pepper, sliced
1 spring onion, diced
1 tbsp sesame oil
1 tbsp soy sauce
½ tbsp vegetable oil
1 tbsp honey
Pinch of chilli flakes
1 tbsp crushed peanuts
Small handful of coriander
Method:
If you're using bamboo skewers like us, soak them in a bowl of water to help stop them from burning when you cook the chicken.

Add raw diced chicken and spring onion alternatively onto skewers.

Heat a griddle pan or BBQ to a medium heat.

Place skewers into the pan and brush with the yakitori sauce.

Keep turning the chicken skewers every minute for 10 - 12 minutes until the chicken is cooked through. Brushing with sauce constantly so it is soaked up by the meat.

Whilst the chicken is cooking, make up the soba noodle salad.

Add vegetable oil, sesame oil, soy sauce and honey to a pan with a pinch of chilli flakes and simmer until the sauce thickens and all ingredients are mixed well.

Heat a pan of boiling water and add the soba noodles, cooking to package instructions, then drain and mix with the sauce.

Mix together noodles with carrots, coriander, red pepper, spring onion and sesame seeds then top with crushed peanuts.
Quick Tip:
If you want to try and make your own yakitori sauce you will need:
50ml soy sauce
50ml mirin
25ml sake
1 tbsp brown sugar