Cinnamon Apple Oats Recipe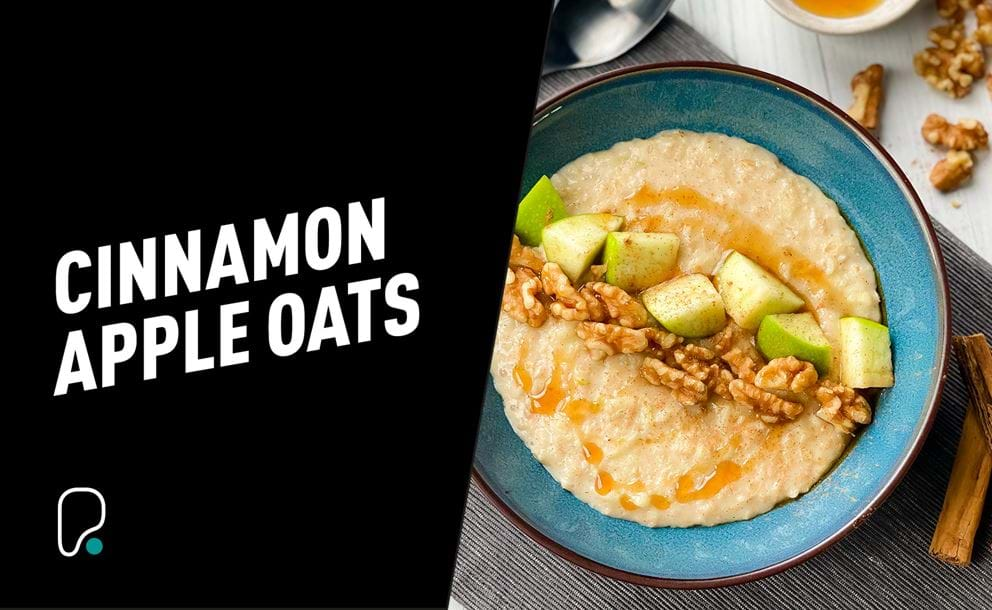 The cold, dark mornings are here which means one thing – it's time for oats!
Porridge oats are a great way to start the day, as they are packed full of slow-release carbs, vitamins, and fibre, plus they taste delicious.
Our creamy cinnamon apple oats recipe is a winter breakfast staple which will warm your soul and keep you feeling full until lunch, thanks to the combination of fibre from the oats and the healthy fats from the walnuts. At only 344 calories, it's a great breakfast option for those looking to maintain or lose weight.

Taking less than 10 minutes to make, this is quick breakfast recipe you can make on any day of the week. And it costs just 65p per portion, making it ideal for those on a budget!
Want to switch it up? Why not swap out the walnuts for toasted almonds and add some ginger or nutmeg to your oats too. The possibilities are endless.
Ingredients
40g oats
½ apple, grated
1 tsp cinnamon
150ml semi skimmed milk (or plant alternative)
150ml water
1 tsp maple syrup
10g walnuts
Method
Add oats, grated apple, milk and cinnamon to a saucepan and bring up to a gentle simmer
Cook the oats for 4 – 6 minutes stirring regularly to keep it smooth and to stop it sticking to the pan
Add more liquid (water or milk) if the oats start to get too thick to allow enough time for the apple to cook through
Top the oats with walnuts, maple syrup and any remaining apple
For an extra cinnamon kick sprinkle more on top before eating
Looking for more quick breakfast recipes? If you're craving something savoury give our pizza breakfast bagels a go, or if you're in the mood for something sweet try our peanut butter protein pancakes.