Mini Dark Chocolate Banana Bread Muffins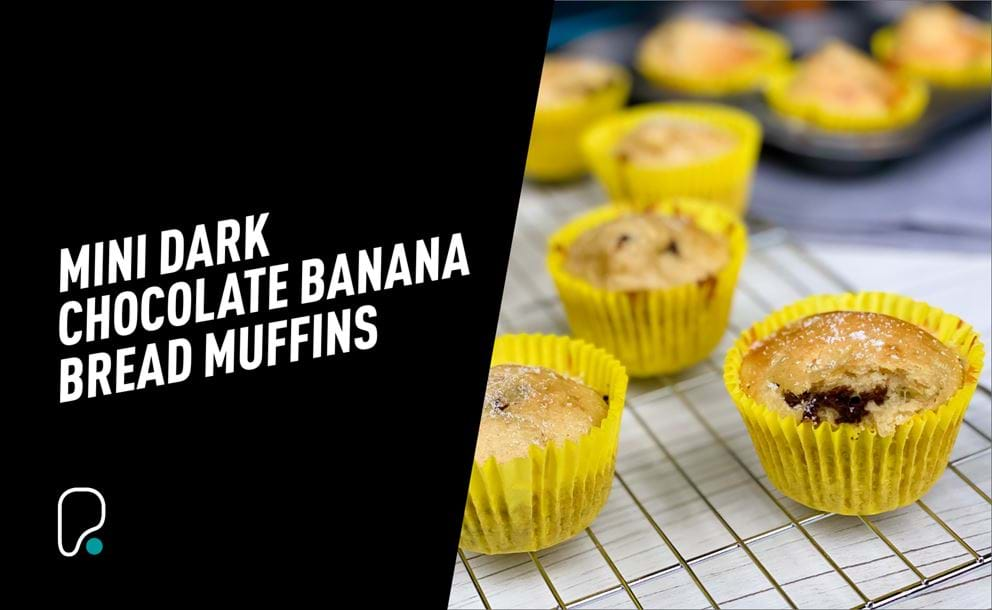 Satisfy your sweet cravings with these light, fluffy and incredibly moreish Dark Chocolate Banana Bread Muffins. Muffins are quicker and more convenient than banana bread – whilst still tasting just as good. At only 213 kcals they're the perfect snack to make use of all your over ripe bananas and are also great for lunchboxes so popular with the whole family.
Ingredients:
Serves 12
225g plain flour
50g protein powder, unflavoured or vanilla
120 ml maple syrup

80ml melted coconut oil
60ml semi skimmed milk
3 eggs
3 large ripe bananas, mashed
1 tsp baking powder
1 tsp vanilla extract
½ tsp salt
6 tsp chopped 70% dark chocolate
Low-calorie cooking spray oil
Method:
Preheat oven to 170 degrees Celsius.
Grease a muffin tray with a few sprays of low-calorie cooking oil spray or alternatively use muffin cases.
Start by putting all of your wet mixture into a bowl – whisk the eggs, coconut oil, maple syrup, milk and vanilla until fully combined. Then add the mashed bananas and mix well.
In a separate bowl combine your dry mixture of protein powder, flour, baking powder and salt.
Gradually add your dry mixture to the wet mixture and keep stirring until smooth, you don't want any lumps so don't rush this step.
Fill the muffin tins half full of the mixture, then place ½ a tsp of chopped dark chocolate in each tin, then top with the rest of the mixture. This will give a nice gooey, chocolatey bite in the middle of your muffins!
Place into the oven for 20 - 25 minutes until risen and golden.
Take the muffins out of the tin and place onto a cooling rack until fully cooled.
Store in the fridge for 4 - 5 days or they will keep in the freezer for up to 2 months, perfect for bulk batched meal prep. Enjoy!