The World's Most Physically Demanding Concerts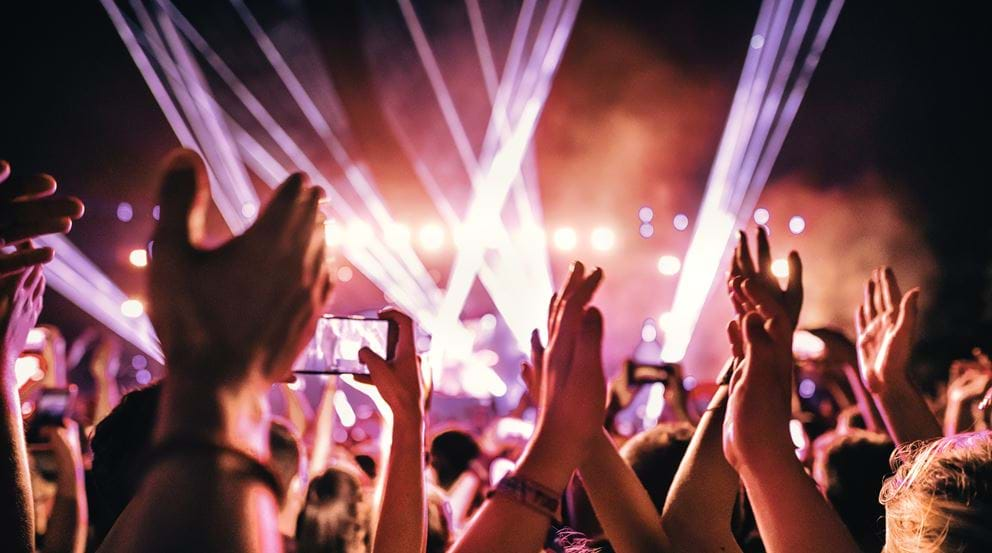 For many of us, going to a gig or a festival is one of life's greatest pleasures. Whether you're in an underground venue listening to your favourite indie band or singing along to a global pop icon in a sold-out stadium, you're sure to leave feeling elated and full of adrenaline.
The birth of rock and roll in the 60s completely changed how artists put on shows, while Woodstock stimulated an appetite for festivals that's still ongoing, and legends like Bruce Springsteen practically invented the four-hour concert style that current artists are still adopting.
With concerts and festivals getting bigger, better (and longer) each year, those hours spent on our feet can leave even the fittest of us feeling tired! With that concert cardio-burn in mind, we wanted to find out which artists' setlists truly take the most out of us, so we crunched the numbers and found out - read the results below.
The top 15 most tiring tours
To discover the most physically demanding tour to see live, we calculated the average BPM across each artist's most recent set list as well as the cumulative song length of each gig (the amount of time spent listening to music, excluding any interim waiting or music-less periods). These two scores were then factored into an index score out of 100, to once and for all reveal the tours truly working us (and the artist) the hardest. The higher the score, the bigger the workout for people in the audience.

Global pop star Taylor Swift ranks in first position, followed by Latin American icon Bad Bunny and longtime rock and roll legends The Cure.

The rest of the top 15 is made up of a variety of genres, with alternative rock band My Chemical Romance's setlist the fastest of them all (a monster average BPM of 146).
Other notable artists include the queen of pop Beyonce, and rappers including 50 Cent and Kendrick Lamar - but the vast majority of the top 15 are rock bands - the likes of Radiohead and Metallica all pulling in their own 'exhaustion' scores of over 70 out of 100.
| | | | | |
| --- | --- | --- | --- | --- |
| Rank | Artist | Average BPM (Median) | Time spent performing (hours:minutes) | 'Exhaustion' Score /100 |
| 1 | Taylor Swift | 122 | 2:57 | 91 |
| 2 | Bad Bunny | 113 | 3:00 | 89 |
| 3 | The Cure | 140 | 2:26 | 88 |
| 4 | Bruce Springsteen | 123 | 2:08 | 78 |
| 5 | Beyonce | 117 | 2:15 | 77 |
| 6 | 50 Cent | 98 | 2:34 | 76 |
| 7 | Kendrick Lamar | 125 | 1:53 | 74 |
| 8 | Radiohead | 114 | 2:04 | 73 |
| 9 | Coldplay | 131 | 1:41 | 73 |
| 10 | Metallica | 123 | 1:46 | 71 |
| 11 | Kanye West | 110 | 2:01 | 71 |
| 12 | My Chemical Romance | 146 | 1:16 | 71 |
| 13 | Paul McCartney | 129 | 1:36 | 71 |
| 14 | Drake | 116 | 1:52 | 71 |
| 15 | Muse | 125 | 1:39 | 70 |

Taylor Swift

Swifties are a committed fanbase, with Taylor's current tour 'Eras' crashing Ticketmaster immediately after its presale started and selling over 2.4 million tickets in a day - breaking the world record the most tickets sold by an artist in one day. A score of 91 out of 100 puts Taylor safely at the top of our rankings, a high overall tempo and almost three straight hours of actual music time making her the artist that is most likely to leave you exhausted by the time the lights come on!

Bad Bunny

Bad Bunny is a Puerto Rican artist, whose latest tour 'The World's Hottest Tour' in 2022 also broke records as the highest-grossing tour in history by a Latin American act. Though he performs for slightly longer than Taylor, and the pace of his gigs is still impressively high, his tiring show sits at just under 10 BPM less on average - giving him a score of 89 out of 100, just pipped to the post by the queen of country pop.

The Cure

The Cure are certifiably one of the best rock bands of all time, selling over 30 million albums worldwide since they got together in 1978. Just one point behind Bad Bunny, their most recent setlist gets them a score of 88 out of 100 - with the second highest average tempo in the entire study (second to My Chemical Romance) and almost two and a half hours of time spent performing - an impressive feat that would tire the fittest of us out.
How tiring is the average tour?
For the average concert, a setlist is likely to be around three hours - with just around half of that consisting of time spent singing or dancing. We spoke to Chris Collett, Personal Trainer and Cluster Manager for PureGym London, who estimates that for a gig like this, you're likely to hit 15,000 steps, the equivalent of walking around 10 km and burning 500-700 calories! This runs even higher for festivals with multiple artists on across the day.
Chris believes that attending concerts is a great way to get your steps and/or exercise in, as engaging in the music will take your mind off the fact you are actually exercising: "A concert can be a fantastic way of getting in a nice 10km while walking or dancing and having fun without even getting out of breath! Beyond the numbers though, music events really are just a great way to reduce stress and release those happy hormones that being active can give us."

We spoke to Jhaun Penrose too, a PT and Assistant Gym Manager at PureGym Marylebone, who echoed Chris' thoughts on just how beneficial dancing at a festival or concert can be for us. He said: "Dance - your heart will thank you for it. When your favourite artist has hit the stage, you will be singing and dancing along, inadvertently doing cardiovascular exercise without realising! Working your heart aerobically this way at a gig closely resembles the steady state cardio you might otherwise struggle to achieve on the treadmill."


How to prepare for a concert or festival
If you're a serial attendee at gigs or festivals and want to increase your endurance to help you stand for longer and dance harder, there are exercises you can do to help up your stamina. We spoke with Jhaun Penrose and Leanne Hill, a PT and Gym Manager at PureGym Woking who shared their expertise on how to prepare ahead of time.

Dance-based exercise classes

Leanne explains: "If you're wondering how to train for a concert or festival, the simple answer is to dance! If you've never tried a Zumba or dance fitness class, now's the time. It's hard work, but above all it's a fun way to get your heart pumping, and muscles moving, to build up some cardiovascular and muscular endurance."

Regular strength training

Don't underestimate the impact of regular strength training on your recovery time, Jhaun reiterates: "Regular strength training will build up your muscular endurance, reducing the physical demands of standing and dancing – and helping your muscles to recover quicker."

Train on uneven ground

Training in the gym is great, but not all concerts or festivals are on flat surfaces. Leanne reminds us that many festivals take place in fields on uneven grassy terrain, and this can really take its toll on our feet! "Try getting outside for a steady, middle-distance, low-intensity jog – choosing grassy or gravel paths. Not only will this improve your cardiovascular fitness, but it'll also strengthen the muscles in your ankles and feet so you can better withstand hours of standing on uncomfortable terrain (in potentially unsuitable footwear!)."

Wear proper footwear

You might love the look of those cowboy boots, but if your goal is to stay standing and dancing for as long as possible – comfortable and supportive footwear is the way to go. Jhaun agrees, telling us "The right kind of footwear can reduce your chance of injury. You might not even realise it at the time, but when standing for long periods of time sometimes your lower back can become sore. This isn't because your back is weak, but because it's overcompensating as your feet and your legs start to fatigue."

Prepare your body nutritionally

Leanne said: "In the days leading up to the event, try to keep your diet balanced. Focus on eating lots of micronutrients to fill your body with powerful minerals and vitamins that will help you feel your best throughout the gig. Keep your plate balanced with a source of lean protein, a serving of complex carbohydrates and a handful of colourful veggies! On the day of the festival or gig, your 5-a-day may not be your biggest priority, so fruit and vegetables that are easy to throw in your bag (think bananas, oranges or apples) are a great way to give your dancing body a vitamin and energy boost. Fibre rich snacks like trail mix and energy bars will also help to sustain your energy levels and keep you feeling fuller for longer - particularly important for those four-hour sets."
How to recover after a concert or festival
Do you struggle to get back to top form after a big event, or suffer from sore muscles for days after? We asked Zach Kingsbury - PT and Assistant Gym Manager at PureGym Cambridge to share with us his tips on how to recovery as quickly as possible:

Rehydration
Few people drink just water at a concert or festival. Whether you're drinking alcohol, sugary, or caffeinated drinks, you're likely to leave dehydrated and with your liver and kidneys working hard to process everything. For the next 2-3 days following a gig, aim to drink at least two litres of water and even some electrolytes to help flush out any toxins, rehydrate, and get your body back working efficiently.

Diet
Much like fluids taken in at a festival, the food isn't typically the most nutritious either. A two-to-three-day focus on restoring that healthy balanced diet will help you feel more energised, healthy, and ready to return to normal life. Focus on fruit, vegetables, and protein to ramp up the nutrients and help the body and muscles recover.

Stretching
If your legs are aching from lots of dancing and moving around, a good stretch will help to loosen up the muscles and relieve the tension. Try to do at least two stretches each for the hamstrings, glutes, quadriceps, and calves in one session. Remember, it should feel relaxing - not taxing.

Sleep
No one is getting their eight hours at a festival, and even the buzz from a one-night show can knock your sleep pattern off, so try to get back into your sleep routine as quickly as you can. This one might be easier than you think since a full-on festival weekend can leave you wanting nothing but sleep when you get home.

Training
Keep the first couple of workouts after a big festival weekend relatively easy and light-intensity to get your body back into the swing of things. You're more likely to risk an injury if you go full intensity straight away, and you'll appreciate the lighter workouts more than usual during this period anyway.
Looking for cardio-based classes that will help provide the endurance you need for the concerts and festivals you want to go to this summer? Find your nearest PureGym here.
Methodology

We collated a list of 30 of the world's most popular artists, choosing those who sell out tours quickly or who are renowned for playing long sets. We then used setlist.fm to find their most recent set list and calculated the BPM and song length of each song using songbpm.com. A weighted score was then created using both the median BPM and time spent performing, to provide an overall 'tiring' score out of 100.

All data correct as of June 2023.