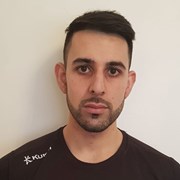 Asif Khan
Hi, I'm Asif, one of the Personal Trainers here at PureGym.
I help men and women transform their bodies. If you're tired and frustrated of going to the gym, not seeing results for the time and effort you are investing, then read on.
Transforming your body can actually be a quick and simple process, providing your training and nutrition is optimal. Using evidence-based protocols, covering all aspects of fitness, I will ensure that we progress towards our goal.
Training - In the gym we will work hard and smart, multiple times a week. I will push you harder than you would do on your own therefor forcing your body into a positive change. Most importantly, you'll learn how to train effectively and safely.
Nutrition - 'Eating Healthy' will only get you so far. If you truly want to achieve the body that you wish for, tracking calories is a must. Don't worry if you're unsure how to approach this, I will work all the numbers out - All you have to do is follow the plan. We will construct a simple, easy to follow nutrition plan than you can fit into your daily lifestyle. The plan will create the optimal environment for both fat loss and muscle gain.
Monitoring - To ensure you're able to continually progress, key variables will be tracked to tell us how you're responding to the programme. Adjustments to the nutrition and supplement plans will be made on what is measured, what we see and what we forecast for the future. From morning body weight to gym performance, everything is tracked and reviewed.
Accountability - I will be on your case to ensure that you achieve the results you desire. If we work together, your progress becomes my responsibility and I don't leave anything to chance. There will be daily contact to ensure that we are moving forwards and boxes are being ticked.
If you're still unsure about my methods, check out my own transformation on my Instagram page and allow me to teach you exactly how you too can make dramatic changes to your body, a lot quicker than you'd imagine!
Instagram: @a_khan9pt
Specialist Areas
Bespoke plan
Body confidence
Body fat reduction
Muscle tone and development
Weight loss
Qualifications
Level 2 Fitness Instructor
Level 3 Personal Trainer