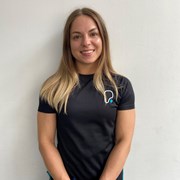 Jess Conti
Hey, I'm Jess. I want to help you, and I want you to get the most out of your fitness journey by getting you fit, strong and loving your training.
I specialise in coaching people to build strength, lose fat, become healthier, gain better nutrition habits, or just get started with fitness and make progress. Whatever your personal goal is, I will be able to give you the tools, support and guidance you need to make it happen.
My own personal journey with fitness has helped me to appreciate myself in ways I never thought would be possible. Where before I was self-conscious, unhappy with my body and unmotivated to make a change, I then developed a passion for fitness which has allowed me to become and feel confident in many aspects of my life and sure about myself. My goal in this role is to allow others to have the same beautiful experience that I had and demonstrate that we can all love ourselves with just a little bit of commitment. 
So that's a bit about me. What about you? 
Get in touch today to book a free consultation and let me know what you are trying to achieve.
Specialist Areas
Body confidence
Body fat reduction
Nutritional guidance
Postural correction
Strength and conditioning
Qualifications
Level 2 Nutrition and Health
Level 3 Personal Trainer