Air fryer Fish Goujons with Homemade Tartare Sauce Recipe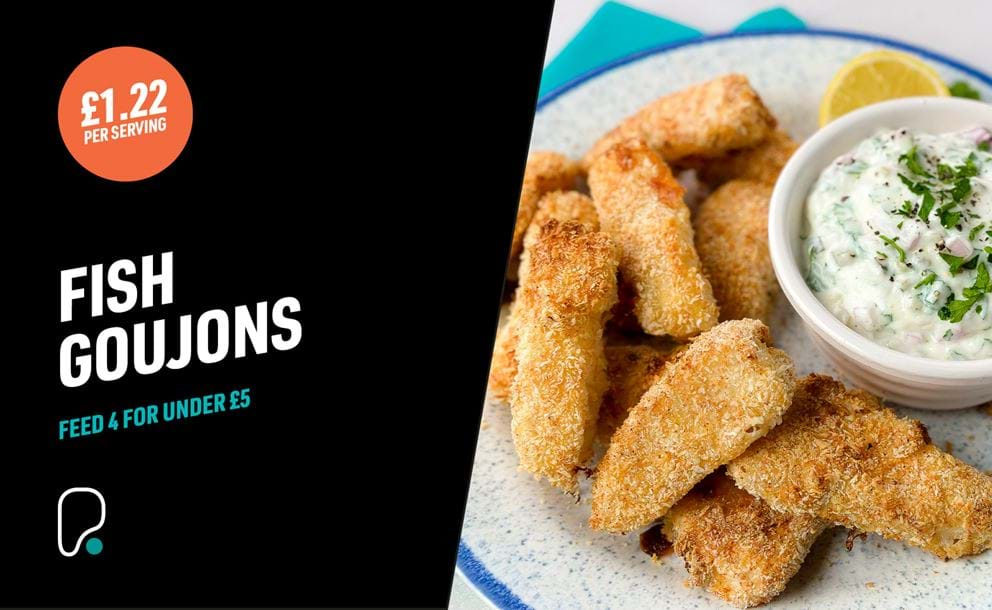 One of the biggest trends to come out of the 2020's so far is the air fryer, and for good reason. Cheaper to run than an oven, but using less oil than traditional fryers, the air fryer makes it easy to create healthy versions of your favourite foods without sacrificing taste or texture.
This recipe uses the air fryer to create crispy fish goujons that work well with chips, in a sandwich, or just as a snack on their own. We've paired it with a delicious homemade tartare sauce for a traditional fish and chip feel, but feel free to sub this for any of your favourite condiments.

Our fish goujons are made with cod fillets as it's a low-fat source of protein that is packed with vitamins and minerals like B12, iodine, selenium, and more. Cod is also readily available for a good price in the freezer section of most supermarkets, which is how we've kept the price of this recipe down.
We've used panko breadcrumbs, a Japanese style of breadcrumb that traditionally coat deep fried foods, such as chicken katsu, to create the coating on our goujons. Panko breadcrumbs create a crispier finish than regular breadcrumbs while being lower in calories, fat, and salt.

Fish goujons wouldn't be complete without tartare sauce, and our homemade version is quick to whip up and much fresher (and healthier) than store bought alternatives.
The whole recipe contains a generous 30g of protein with just 274 calories per portion, making it an ideal main to any dish. The whole recipe takes less than 30 minutes to make and costs a total of just £4.88 for all four servings, for a family friendly dinner any day of the week.
Serves: 4
Prep time: 10 mins
Cook time: 15 mins
Ingredients
For the fish goujons you will need:
400g frozen cod fillets, defrosted
50g plain flour
1 egg, beaten
50g panko breadcrumbs
½ tsp paprika
Low calorie oil spray
Salt
Freshly ground black pepper
For the tartare sauce you will need:
150g 0% fat Greek yoghurt
50g light mayonnaise
3 tbsp gherkins, finely diced
1 shallot, finely diced
½ lemon, juiced
3 tbsp fresh parsley, finely chopped
Salt
Freshly ground black pepper
Method

Before you begin, ensure cod fillets are fully defrosted using the packet instructions.
Start by slicing the cod fillets into finger sized pieces.
Next, add the flour, beaten egg and breadcrumbs into 3 separate dishes.
Mix the breadcrumbs with paprika and season well.
Now dip the cod fingers into the flour, then the egg and then the breadcrumbs, dusting off any extra breadcrumbs.
Next, spray the air fryer basket with low calorie oil spray before lying the cod fingers in a single layer, cooking them in batches if you need to.
Give the cod fingers another spray of low-calorie oil spray and cook them for 5 minutes at 200c. Once the time is up. flip them over and cook again for 6-8 minutes until they're flaky on the inside and crispy on the outside.
Whilst the cod fingers are cooking, prepare the tartare sauce by mixing all the ingredients and seasoning to taste.
Serve together and enjoy!