Butternut Squash Mac and Cheese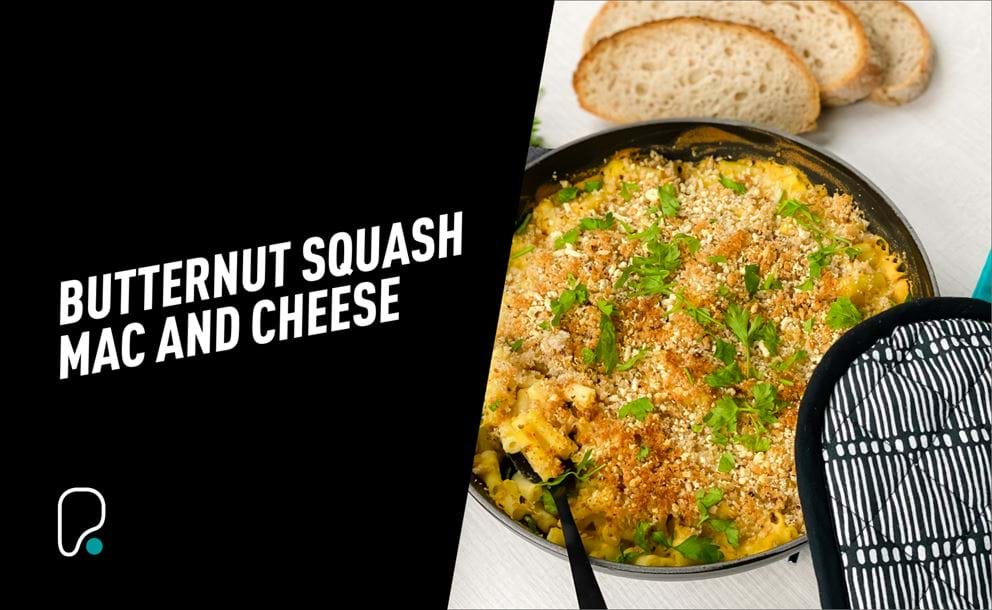 Give your mac and cheese a makeover with this healthy and nutritious twist on the classic cheesy comfort dish. Our Butternut Squash Mac and Cheese recipe not only tastes incredible, but it's also packed full of nutrients – and nobody will notice the difference.
At only 375 calories per serving, this recipe is a simple way to sneak more veg into even the fussiest of mouths without compromising flavour. The butternut squash creates a sweet, creamy sauce which is complimented perfectly with the tang of mustard.
The best bit? The possibilities are endless. You can easily make this recipe vegan or dairy-free by switching the parmesan to a vegan alternative. You can also add whatever extra veggies you have leftover in your fridge to make the batch go even further, tomatoes, peppers and broccoli are great choices!
Ingredients
Serves 2
300g butternut squash
200g macaroni pasta
65ml almond milk
1 tsp onion granules
1 tsp garlic granules
½ tsp Dijon mustard
½ tbsp lemon juice
3 tbsp nutritional yeast
1 tsp salt
2 tbsp parmesan
1 slice of sourdough (or leftover bread)
Freshly ground black pepper
Fresh parsley
Method
Preheat your oven to 200 degrees Celsius.
Place your bread of choice into a blender and blitz until you get breadcrumbs.
Cook your macaroni as per packet instructions, then drain and set aside for later.
Steam the butternut squash over a large pan of boiling water for 8 - 10 minutes until cooked through and soft.
Place the butternut squash into a blender, and blend until smooth.
Then add almond milk, onion granules, garlic granules, Dijon mustard, lemon juice, salt, nutritional yeast, seasoning and blend again until smooth.
Pop the cooked macaroni into an oven proof dish and pour over the sauce, and then top with breadcrumbs and parmesan.
Place into the oven for 15 - 20 minutes, until crispy on the top and bubbling underneath.
Top with fresh parsley and serve. Enjoy!
For more great healthy and light recipes, click here.